Find your personalized regimen
No matter your needs, BelleCôte offers the ideal combination of daily essentials and targeted treatments - a transformative skincare prescription formulated especially for you.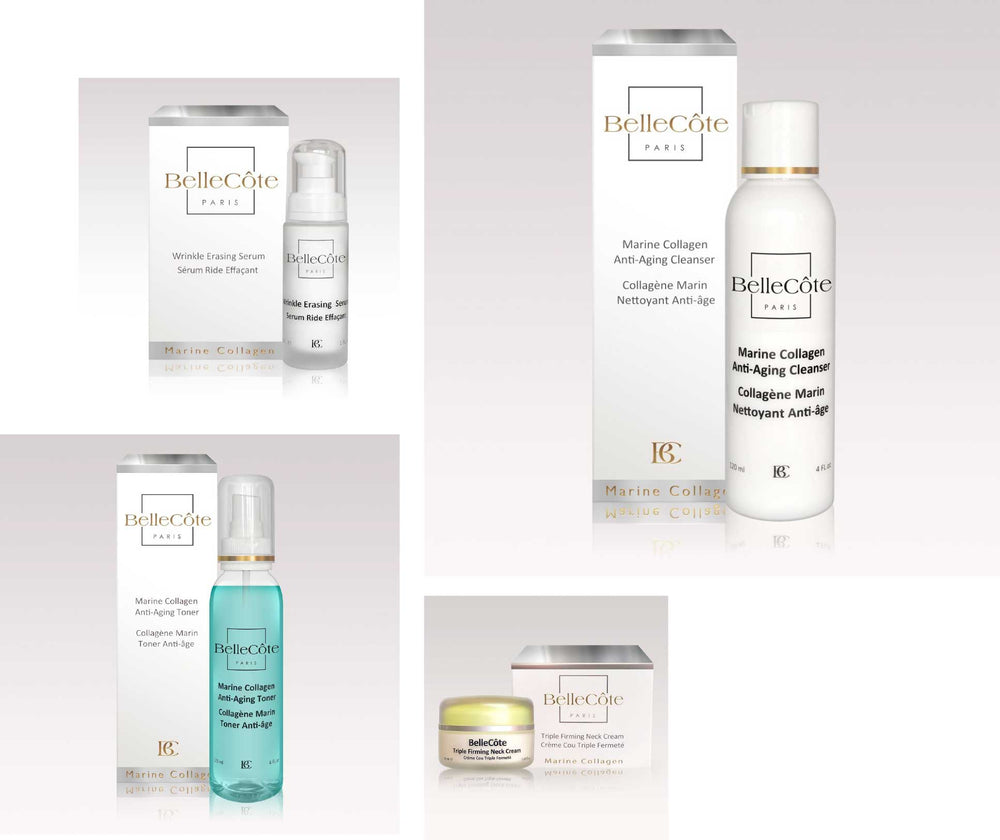 Aging Skin
Time and environmental elements erode the health of our skin, causing it to thin, crease, and dry with age and exposure. Our Anti-Aging Collection contains marine collagen and elastin plump, firm, and boost natural collagen production in the skin, while rich ingredients like caviar extract and natural exotic oils repair and fortify. Turn back the clock with perfect rejuvenation and a fresh, youthful glow!
Symptoms
Expression lines, sagging skin, creases and wrinkles, fine lines, dullness, dehydration, flaking skin, uneven tone, bags, age spots
Solution
Our BelleCôte Age-Defying Regimen provides complete hydration for dry skin, smoothing and plumping expression lines and wrinkles and repairing and re-texturizing the complexion for bright, supple, youthful-looking skin.
Discover Regimen
Ingredients found in our products:
Marine Collagen & Elastin
Marine Collagen is a highly effective, nourishing marine-based protein which helps rejuvenate and moisturize dehydrated, devitalized skin. It has synergies with other antioxidants such as Vitamin C+E.
Marine Elastin replenishes moisture and creates a gentle film on the skin to protect and prevent additional moisture loss, improving elasticity.
Normal to Dry Skin
Healthy skin still craves hydration and nourishment. Maintain, improve, and protect your naturally clear and youthful complexion with our completely natural products designed for gentle and effective daily treatment. Pamper your skin and refresh and beautify your complexion!
Symptoms
Normal skin is not too dry or oily, has no or few imperfections, no severe sensitivity, barely visible pores, and a usually radiant complexion.
Solution
Our BelleCôte regimen for normal to dry skin includes luscious and potent ingredients designed to maintain, hydrate, and protect your uniquely youthful complexion.
Discover Regimen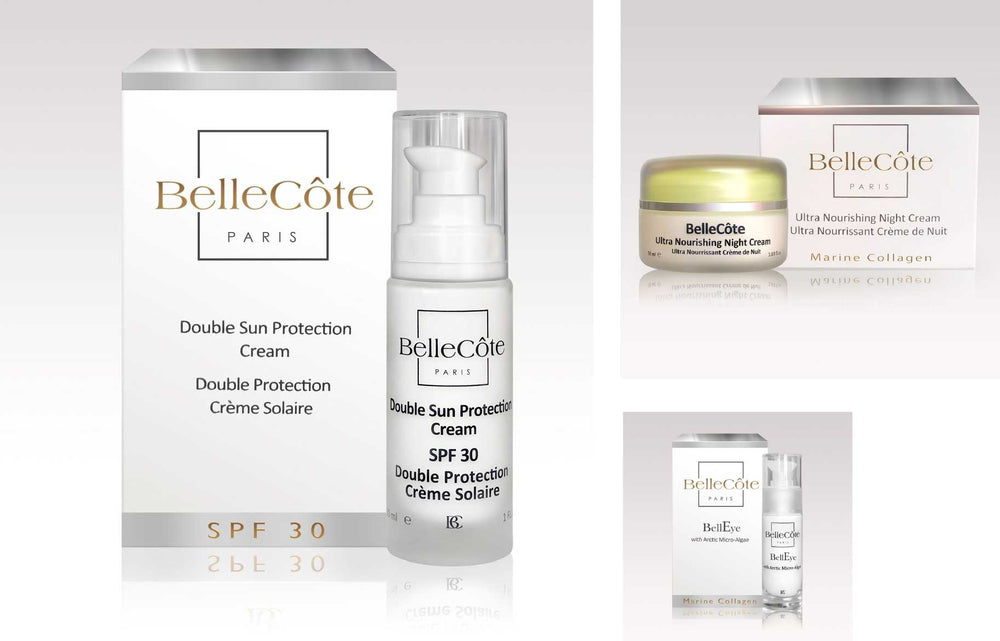 Ingredients found in our products:
Hyaluronic Acid & Collagen Stimulating Peptide
Hyaluronic Acid is a natural humectant and the body's natural hydrator. It helps bind moisture to the skin and provide optimal hydration without clogging pores.
Collagen Stimulating Peptide is a next-generation peptide with quick wrinkle-smoothing effects.
Oily / Combination Skin
All skin types can be prone to blemishes at any age, not just in our youth. Your genes, environment, and overactive glands can cause oiliness and acne, leading to redness, flaws, and problem skin that requires targeted treatment. Heal, clear, and protect your skin with our total combination skincare regimen!
Symptoms
Blackheads, whiteheads, blemishes, irritation, oil, shine, large pores, acne, uneven complexion.
Solution
Our BelleCôte regimen for oily, combination, and acne-prone skin reduces inflammation, calms redness, clears blemishes, and diminishes the overall size and appearance of enlarged pores. Balance your oil production while you simultaneously calm irritation and provide necessary hydration. Wave goodbye to shiny, greasy skin!
Discover Regimen
Ingredients found in our products:
Caviar Extract & Plant Stem Cells
Caviar Extract is very rich in proteins, minerals, vitamins, lipids and fatty acids. The finest black caviar extract in our products is uniquely structured to deliver these potent nutrients directly to the cellular level of the skin.
Our Stem Cell Blend (Swiss Apple, Acai, Grape) have tremendous ability to rejuvenate and revitalize aging skin and replace damaged cells. 
Sensitive Skin
Whether it stems from your genes or environmental factors like pollution, sun damage, climate, or chemicals, most of us will experience sensitive skin in either the short or the long-term at some point in our lives. Extreme temperatures, harsh detergents, medications, hormones, and stress all impact our skin and its resilience and overall health. Hydrate, protect, and perfect your sensitive skin, and say hello to a glowing complexion!
Symptoms
Redness, heat, uneven tone, itchiness, burning, stinging.
Solution
Our BelleCôte regimen for sensitive skin includes everything you need to combat redness and inflammation, with all-natural ingredients sourced from the sea providing intense hydration, reducing the skin's reactivity, and boosting resilience to environmental and internal stressors.
Discover Regimen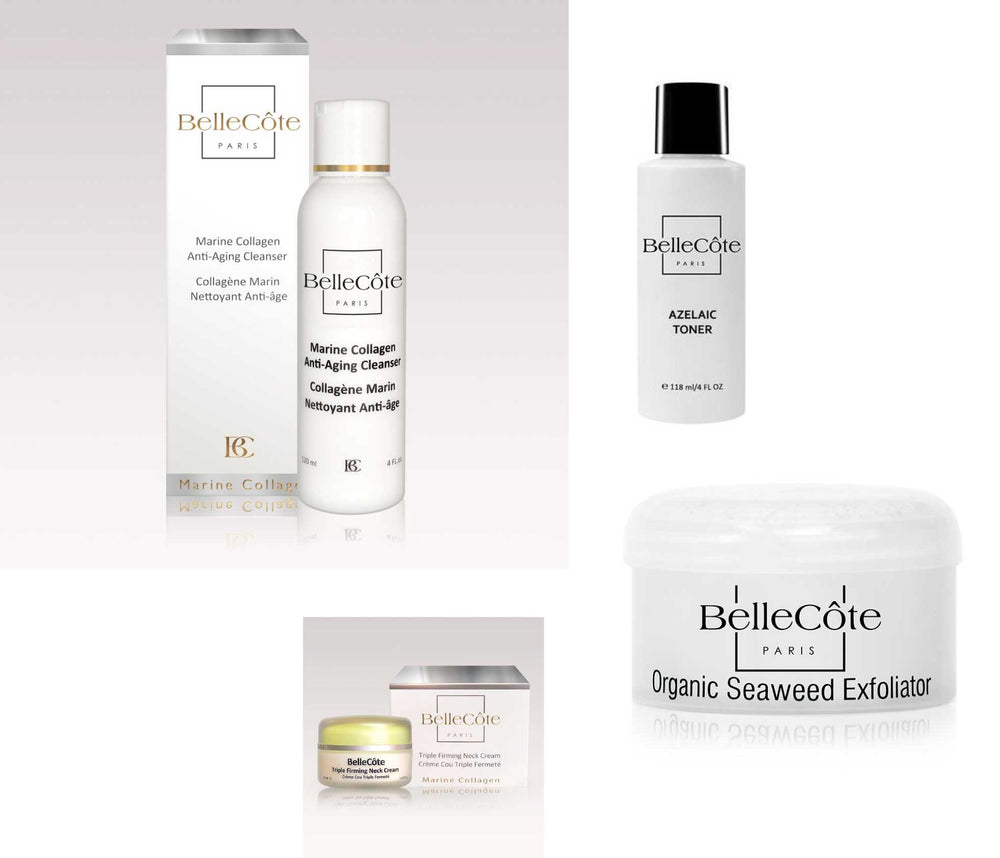 Ingredients found in our products:
Arctic Micro-algae & Glacial Water
Arctic Micro-algae have the very unique ability to change the composition and pigmentation of the skin by producing a significant amount of carotenoids, anti-oxidants, fatty acids, enzymes and peptides. 
Naturally melted and extremely pure, arctic glacial water offers an intense level of hydration to the skin.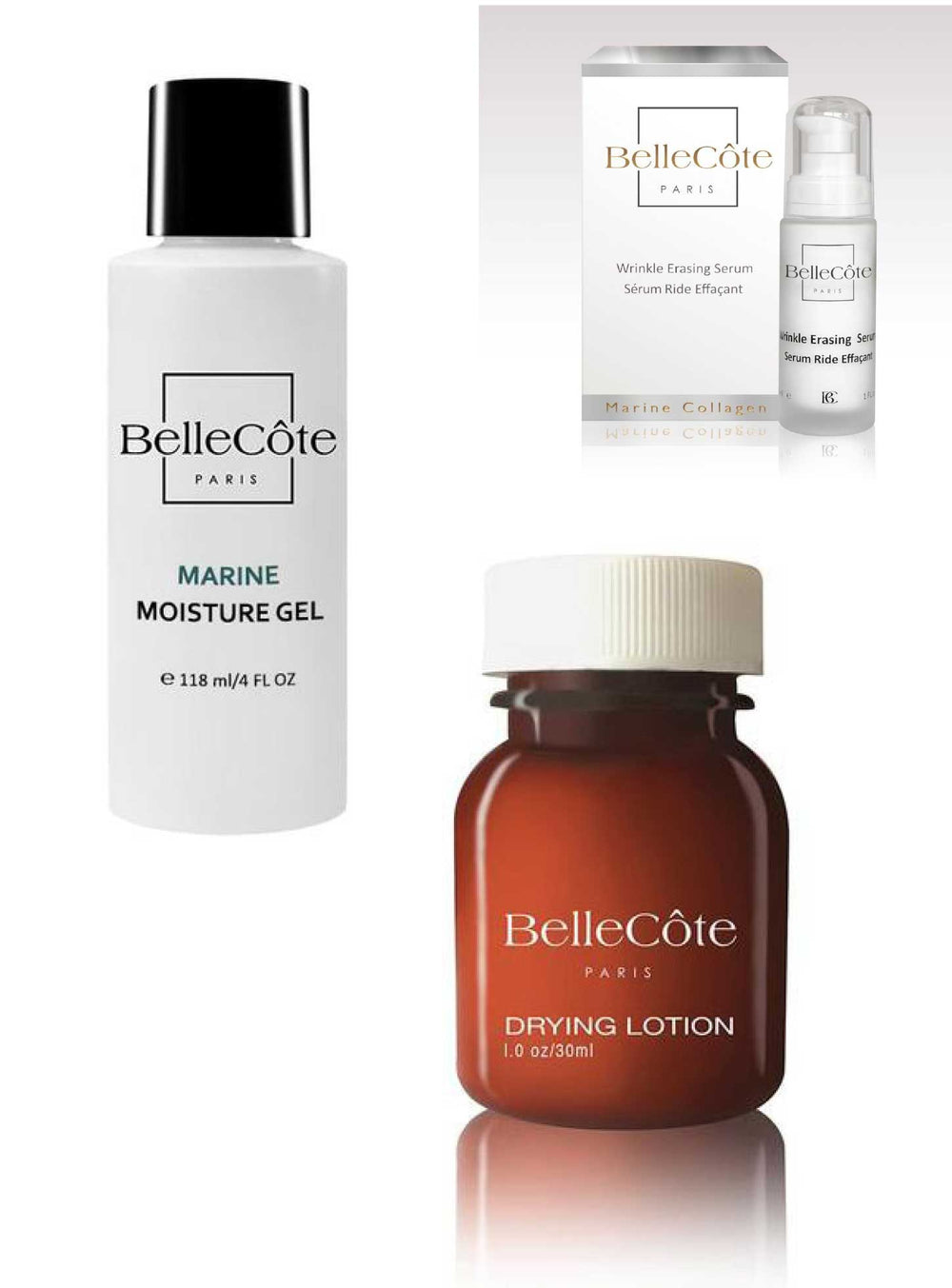 Men's Skincare
Men's skin requires care and attention, but the masculine aesthetic demands a unique solution. Our formulas are designed to suit the specific needs of men - counteract the effects of frequent shaving, stress, pollution, and the natural aging process with the incredible strength of the sea. Our active marine ingredients will reduce oiliness, shrink pores, clear blemishes, restore hydration, and thoroughly calm and refresh after shaving and exercise.
Symptoms
Oiliness, shine, irritation after shaving, large pores, acne, uneven complexion.
Solution
Our BelleCôte regimen for men reduces shine while it calms irritation from shaving, exercise, and pollutants. It clears blemishes, reduces and diminishes the overall size and appearance of enlarged pores, soothes razor burn, and balances the oil production and pH of your skin. Damaged cells are a thing of the past - reveal a clear, fresh complexion and enjoy absolute confidence in your skin!
Discover Regimen
Ingredients found in our products:
Superoxide Dismutase (SOD)
A very efficient enzyme, it neutralizes free radicals and helps to protect skin cells from their attack. SOD is found in both the dermis and the epidermis and is key to producing healthy skin-building cells. Studies have shown that SOD acts as both an antioxidant and anti-inflammatory in the body, neutralizing the free radicals that can lead to wrinkles and changes in precancerous cells.